CPAN loading of Q400 - minor inconsistencies
Hi,
After some experiments I have some questions to the aircraft loading via CPAN. Maybe these observations are helpful for others and hopefully for the developers for the next fix.
(1) My Setup
Simulator: P3D 4.5 and Q400 latest version
Aircraft: OE-LGM with parameters received from my VA
Basic weight 17.638 kg
Max. gross weight 28.998 kg
DOI 68,93
Delta BW to DOW 600 kg -> DOW 18.238 kg
I adopted the aircraft.cfg to reflect these figures:
[WEIGHT_AND_BALANCE]
max_gross_weight = 63929.6 // 28.998 kg OE-LGM
empty_weight = 38885.1 // 17.638 kg OE-LGM
I created a PFPX profile with these values:

(2) The Flight
I planned with PFPX a flight LOWW to LOWG (RUPE2C RUPET RUPE2M)
70 passengers
910 kg baggage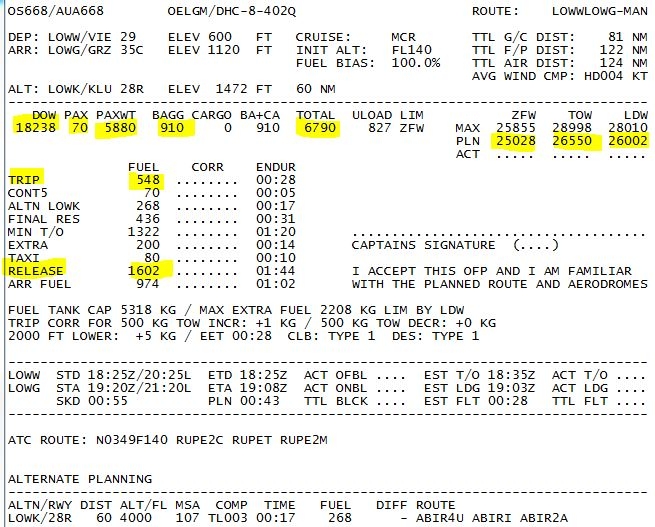 As you can see, the DOW is calculated correctly (BW+600) and for the PAX weight 84kg per PAX were calculated.
(3) Loading with CPAN
Now I have to load these figures as exactly as possible into the Q400. I monitor this loading with a tool called FlightSimManager, which reads the values via FSUIPC.
And here some tricks are necessary to get the desired result, as the CPAN loads the aircraft with slightly different numbers compared to what you see on the screen.
One obvious flaw is just a wording issue:

You don't load here the T/O fuel (which is release fuel minus taxi fuel) but of course your release fuel. So if in the next fix this caption could be chaned to "release" or "ramp" it would be more clear.
Anyhow: The value you are inserting here (1.602 kg) is correctly transferred to the simulator, as the check with FSM shows: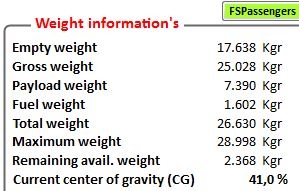 Another interesting thing is the passenger weight: CPAN calculates with 84,8 kg/pax. Therefore it shows 5.936 kg as passenger weight and 6.846 kg as traffic load.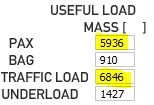 Sending these values to the simulator, loads the passengers only with 84 kg, as you can check with FSM: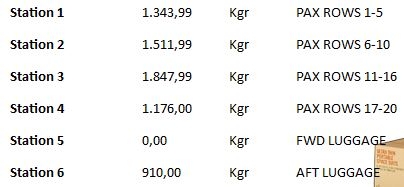 The passenger weights from the 4 station sum up to 5.880 kg (=70x84). This again fits exactly to my calculation done in PFPX (see above). The baggage is loaded correctly as entered in CPAN.
Now the really tricky one - the DOW. The Q400 has a load station 0, which should get the 600 kg difference between basic weight and DOW:

As you can see, this has been loaded correctly. But how can this be achieved. The DOM field has a strange behaviour. Whatever you enter here: The difference to 16.982 kg is loaded into station 0. I didn't find a reference in the configuration files, where you can change this base value. So if you want to have a certain DOW delta to BW (eg 600 kg) loaded, add your desired value to 16.982 and enter this calculated value into the DOM field.

With this trick you are able to load, what you have calculated before exactly into your Q400.
So there remain some questions to the developers:
Why is there a difference in the PAX weight in the CPAN (84.8 kg) vs. the weight loaded into the stations (84 kg)?
Where does the magic 16.982 kg come from, which you have to use to load the DOW delta correctly into station 0?
As you have your own simulator engine: are the values as loaded into the sim exactly transferred to your own simulation engine?
It would be great, if you can provide some inside details to us. And as I am not an expert and flightsim is just a hobby for me, some assumptions I made might be wrong. Any additional information is appreciated.
Best regards
Reinhard